This ultimate guide on pineapple farming will help you to learn better practices to cultivate pineapple. Also get to know origin, area and distribution, etc. of pineapple.
People across the globe love eating pineapples, not only for its taste but also for health benefits. Moreover, according to Tridge, global fresh pineapple market trend is showing positive growth. In the year 2018, the total export market value of fresh pineapple was USD 2.1 billion.
Although, to get good profit you must know and learn better farming practices. And Agriculture Review is one stop solution for all. Here you are going to learn everything related to cultivation of pineapple.




Introduction
Pineapple is the most economically significant plant in the family Bromeliaceae. It is a wonderful source of Vitamin-C, manganese, phosphorus, zinc, and calcium. Eating pineapple helps in reducing risk of cancer, easing digestion, boosting immunity, etc.
Moreover, pineapple is in great demand among food industry. Raw pineapple can be used for making jam, jelly, folk medicine, juice, etc. Although the foliage parts are also of great importance. Industries uses leaves to make fibres.
So if you are a farmer and you are planning to start growing pineapple in your farm, then it is going to earn you profits.





Botanical Classification
Botanical Name: Ananus comosus
Family: Bromeliaceae
Order: Bromeliales
Class: Liliopsida
Division: Magnoliophyta
Chromosome Number: 50
Source: plants.usda.gov





Origin Of Pineapple
Researchers believe that pineapple originated in Southern Brazil and Paraguay. Indians domesticated the wild relatives of pineapple. Later on it spread through South and Central America to Mexico, West Indies and other parts of the world.





Area & Production
Nearly 26,289,762 tonnes of pineapple is produced worldwide every year. Costa Rica is the largest producer of pineapple with production of around 2,930,661 tonnes of pineapple every year. Other pineapple producing countries are Brazil, Philippines, China, India, Thailand, Nigeria, etc.
India is the fifth largest producer of pineapples with production of around 1,964,000 tonnes every year.
More than 900 thousand hectares of land is devoted to the cultivation of pineapple in the world.





Pineapple Farming Guide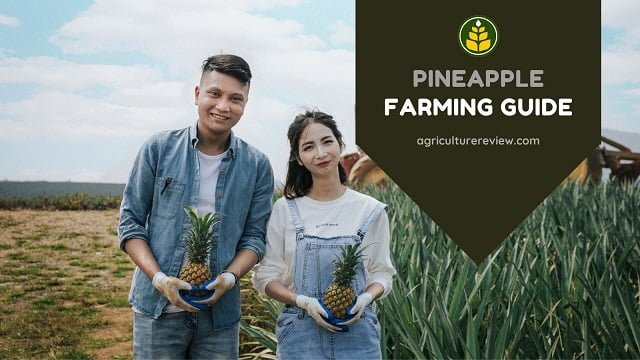 Let's now learn about climate, soil, fertilizers, irrigation requirements to cultivate pineapple crop. Knowing about these factors helps in deciding and providing better care to the crop and hence production increases.





Soil Requirements
Well drained, sandy loam soil that is rich in organic matter is considered ideal for pineapple farming. Slightly acidic soil that is pH in the range of 4.5 to 6.5 favours good growth of the fruit crop.
Heavy or clayey soil with waterlogging problem can harm the crop. Hence to cultivate pineapple is such soils, provide proper drainage facility. You can also treat soil with jeevamrut to increase fertility and porosity of the soil.





Climate & Temperature
Hot and humid, tropical to sub tropical climate is ideal for cultivation of pineapple. Most preferred temperature range for farming of pineapple is around 18 to 44 degrees Celsius. However altitude also plays an important role in deciding flavour of the fruit.
Acid concentration in fruit increases with altitude. For canning purpose cultivate pineapple between 1300 to 1700 metres above mean sea level.
Optimum rainfall of around 1400 to 1500 mm annually is ideal for raising pineapple crop. Although you can also grow pineapple in areas receiving 500 to 5000 mm rainfall annually.
Avoid pineapple farming in colder regions.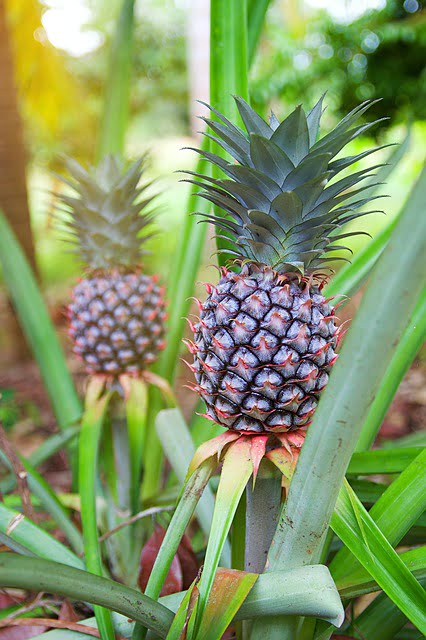 Field Preparation
You can prepare field by ploughing or digging the field. This is followed by levelling. This helps in removing soil clods, rocks, crop debris, etc. After levelling prepare trenches of convenient length depending on the nature of the field.
Prepare trench of about 90 centimetres wide and 15 to 30 centimetres deep.





Varieties
You can cultivate Smooth Cayenne, Queen, Abacaxi, or Red Spanish variety for the purpose of international trade. However I prefer variety that is suitable to be cultivated in the region. You can learn more about that by contacting local government agriculture departments.
Varieties such as Giant Kew, Queen, Mauritius are quite popular in India.






Planting Season, Material & Method
The best season for planting pineapple is 12 to 16 months before the peak flowering season. The peak flowering season generally varies from December to March. Therefore you can either start plantation either during April to June or from August to November.
Planting season of pineapple mainly depends on peak flowering season, onset of monsoon and intensity of precipitation. That's why start plantation according to your local peak flowering season.
Avoid planting during the period of heavy rains. Moreover delayed planting can result in crop delay by at least 7 to 9 months.




Planting Material
You can propagate pineapple through crown, sucker, or slip. These planting material will start bearing flowers after 12 months of planting. But crown will bear flower 19 to 20 months after planting. Now a days you can also use tissue cultured saplings for planting.




Planting Method
Planting method vary according to land and rainfall. You can try flat bed, furrow, trench, or contour planting method. You can adopt contour planting method in slopes. This will help to check soil erosion.





Spacing
If you are cultivating for commercial purpose then you cam adopt high density planting. In sub-tropical and mild humid condition you can plant 63,400 plants per hectare. Adopt spacing of 22.5 × 60 × 75 centimetres.
While in tropical, hot and humid condition you can plant around 53,400 plants per hectare. Under this condition you can adopt spacing of 25 × 60 × 90 centimetres. That is 25 centimetre from plant to plant within a row. 60 centimetres from row to row and 90 centimetres from trench to trench.
You can also plant around 31,000 plants per hectare if the soil is highly fertile, or cultivating on hills and under rainfed condition.
High density planting method has lots of benefits. It results in less weed infestation, protection from sun burn, increased production or yield, etc.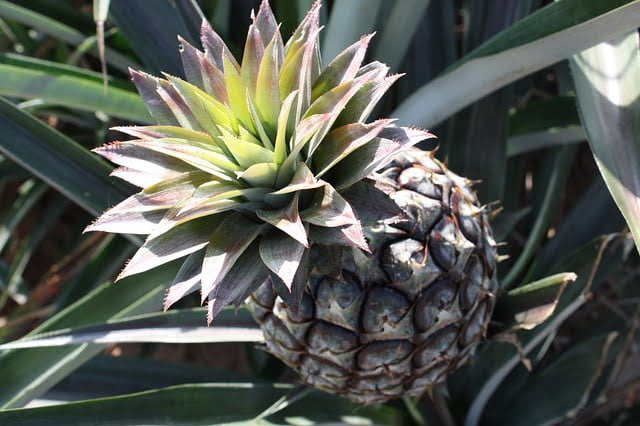 Fertilizers
Nitrogen plays a crucial role in the development of pineapple fruit. Potassium and Phosphorus are required in lesser amounts. You can apply 40 to 50 tonnes Farm Yard Manure or any other organic manure during preparation of field.
A single plant of pineapple requires around 16 grams of nitrogen, 12 grams of Potassium, and 4 grams of Phosphorus every year. These requirements are common for rainfed as well as irrigated crop.
You can apply nitrogen in 6 split doses. Apply first dose 2 months after planting of the crop. And the last dose 12 months after planting. Hence each dose after a gap of 2 months.
Apply potassium in two split doses. Full dose of phosphorus and 1/2 dose of potassium should be applied at the time of planting. Apply the rest amount of potassium 6 months after planting.
You can also apply 0.5% sulphates of zinc and ferrous solutions as foliar spray. Applying them at an interval of 15 days helps in avoiding deficiencies in early crop days.
But if you wish to go completely organic, then you can use sanjeevak, panchgavya, or neemastra.






Irrigation
Irrigation is not a big deal in farming of pineapple as they are mostly cultivated in rainfed condition. However you can give supplementary irrigation during dry spells. This will help to maintain year round production and improve fruit size.
You can irrigate your field once after every 25 days during dry season.





Intercultural Operations
Intercultural operations such as earthing up, mulching, removal of slips and leaves, weeding are essential. They help to provide good anchorage to the plant, protects the plant from sun burn, and increases yield.





Earthing Up
In trench planting method, push the soil from the ridge into the trenches. As pineapple plants have shallow roots so this practice helps to provide good anchorage to the plant. However under high density planting method earthing up is not a necessary practice.





Mulching
You can use dry leaves, straw, black polythene or saw dust as mulching material. Black polythene and saw dust are very effective mulching material for pineapple crop.
During maturing stage of the fruits cover them with rice straw or pineapple leaves. This will help to prevent fruits from damage caused by sun burn and birds. Mulching also helps in preventing growth of weeds.





Removal Of Slips & Leaves
During the development phase of the fruit, you will notice growth of slips. Remove slips as soon as they attain the size required for planting. Increasing number of slips delays fruit maturity.
Practice partial pinching of crown. Remove growing tips and innermost whorl of leaflets. Practice this 45 days after fruit set. This will help to increase fruit quality and size.





Pests & Diseases
Pests like mealy bugs, scale insects or spider mites, nematodes, sap beetles, etc can damage your crop in severe condition. In general pest infestation is very rare in case of pineapple crop.
Diseases like stem rot, base rot, or top rot can occur due to excessive irrigation or waterlogging condition in the field. To avoid this maintain good drainage in the field. Moreover treating planting material before planting also helps.





Harvesting
Fruits start ripening in nearly about 5 months after flowering. In general the plant starts flower in about 12 to 16 months after planting. You can spray Ethrel @ 100 ppm solution one month before flowering to get uniform flowering.
This will help in avoiding irregular flowering that can result in delayed harvesting for longer duration. If you want to harvest for canning purposes then start harvesting when there is a slight change at the base of developing fruits.
But if you want to harvest for table purposes then harvest when fruit develop golden yellow colour.





Yield Of Pineapple
Under high density planting you can get yield of up to 70 – 100 tonnes per hectare. However under normal planting system you can easily get yield of around 50 to 80 tonnes per hectare.
You can grade the harvested pineapple on the basis of weight, size and colour. And store the fruits with crown for 10 to 15 days. You can either sell fruits in local market or to food industries. Or you can also sell them in international markets to get the desired profits.





Author's Note
I guess you are now clear on pineapple farming guide. If you have any idea, query or suggestion then tell me by commenting below. You can also connect with Agriculture Review on Facebook, Instagram, and Koo.