We at agriculture review help  you to grow crops in your farm and garden.
Agriculture Review is an elegant, simple and easy platform for users to learn and grow in agriculture as well as gardening. We publish well researched and practical articles on agriculture and gardening.
People Have Connected With Us
Check out Our Articles On Agriculture & Gardening
Dive into the knowledge zone to learn amazing farming and gardening practices shared by experts.
Onion peels are rich source of potassium, hence you can use them for providing nutrients to your plants.
Jeevamrut is a wonderful bio-fertilizer and pesticide that can help you in practicing organic farming.
Kiwi farming is a highly profitable farming business and can be practiced on small to large scale.
This ultimate guide on lavender farming will help you to learn and start your own lavender farming enterprise. 
I witnessed the condition of farmers in my country, few were successful but many failed to deliver basic food to their families because of lack of knowledge and bad infrastructure. 
We see developing cities but sinking rural life. People from village areas migrate to cities in search of jobs and social status. But we do not realize a positive fact that happiness and prosperity can be found in villages too. Agriculture is not only an art of growing crops but it is a necessity for the upcoming generation. Moreover if practiced well then it can also guarantee profits higher than fixed paying jobs. 
Global population is increasing rapidly. During the 20th Century it was around 1.6 Billions and till 2020 it has reached 7.9 Billions. And that's a huge figure. More people means more demand of food and only farmer can produce food for increasing human population to meet the global demand. 
In simple words I can say that farming is the purest of business that also ensures service to the mankind by feeding the people living on our beautiful planet. 
However, because of lack of knowledge, awareness, and proper guide a farmer suffers huge losses. Therefore I decided to create a user friendly platform for farmers to learn best practices of agriculture. Agriculture Review also offers our farmers to discuss problems related to farming, loans, insurance, and planning. 
Here our highly trained team members are ready to help you at every step, visit our contact us page and connect with us today! We at Agriculture Review are waiting to make your farm enterprise successful. 
While realizing these important problems, I also realized that our urban cities are getting polluted heavily. Because of busy schedule and lack of plants in cities we can easily witness the effects of global warming, stress, and respiratory diseases. However few motivated people start home gardening but due to misconceptions about growing plants they somehow tend to give-up at last.   
Keeping these things in mind I decided to create a similar user friendly, practical, scientific, and effective content on Agriculture Review Home Gardening category page. You can learn growing fruits, vegetables, flowers, houseplants, in your backyard as well as terrace or balcony garden. 
I hope that our platform will bring a positive change in everyone's life. Let's start growing together.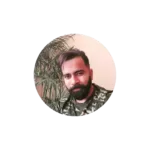 Founder of Agriculture Review
Ideas, Queries, and suggestions
We are one stop solution for products & services related to agriculture and gardening.