The Tamil Nadu Agricultural University (TNAU) has advised farmers of Tamil Nadu to cultivate Sannam red chilli variety to get maximum profits based on their forecast. TNAU Price Forecasting Scheme has analyzed the past 16 years of red chilli prices that prevailed at Tirunelveli regulated market for sannam red chilli variety.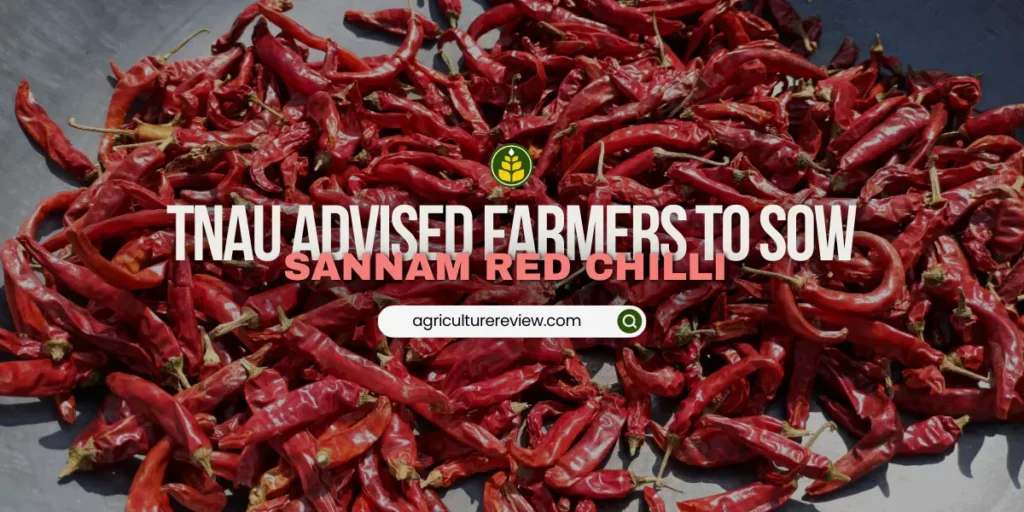 According to the analysis and traders survey, the farm gate price for sannam variety will rule around Rs. 180 to 200 per Kilogram at the time of harvesting. The sannam variety of chilli is known for high pungency, value, flavor, aroma, texture and color in the national and international markets.
India is the largest producer, exporter as well as the consumer of chilli in the world. From 2021 to 2022, in India around 1,786,810 tonnes of chilli were produced on nearly 8.52 lakh hectares of farmland. India exports chilli to China, Vietnam, Thailand, Sri Lanka, Bangladesh and U.A.E.
Andhra Pradesh (49%), Karnataka (15%), Maharashtra (6%) and Tamil Nadu (3%) together constitute around 75% of the chilli growing area in India. Tamil Nadu has a total area of 46,873 hectares of land dedicated to chilli cultivation. Ramanathapuram, Virudhunagar, Tirunelveli and Thoothukudi districts in Tamil Nadu are the major chilli growing districts in the state.
Farmers of Tamil Nadu can start sowing sannam red chilli variety from October to November and the harvest is expected to commence in February. Hence, farmers can make their decisions wisely and sell sannm red chilli in the market to get maximum returns.