Rachana Upadhyay, a plant lover famous as "Patlu Ka Garden" on Youtube, Facebook & Instagram has planted over 1000 plants in her garden. She keeps sharing valuable information about plants and care tips on her social media accounts. Here is her inspiring gardening story in her own words that is a must read for every plant lover.
Growing up in the breathtaking landscapes of Uttarakhand, a region with natural beauty, I developed an unexpected love for plants, gardening & the rivers of Uttarakhand. My passion for cultivating greenery was not only personal but also deeply rooted in my family's traditions.
Both my mother & grandfather shared the same love for gardening. My uncle served in the horticulture department in Dehradun. During his visits, my uncle used to gift me various fruiting plants, which I eagerly planted in my garden. Over time, I successfully grew & nurtured over 100 fruit-bearing plants that are now flourishing at my home in Uttarakhand.
Gardening was a passion that bloomed inside me in my school days, as I decided to begin my green journey with the beautiful Echiveria plant. The credit for this artistry goes to none other than my mother, who had an innate ability to infuse life into any plant she touched.
Inheriting her love for gardening was one of the most prized gifts that I cherish to this day. I found myself missing the peaceful greenery of my hometown after moving to Delhi. To combat this, my mother and I came up with a monthly plan of acquiring one new plant and also testing out the growth of cuttings by propagating new ones.
Reviving my cherished plants became a priority after tragedy struck in 2020. My mother passed away suddenly due to a cardiac arrest, leaving me feeling devastated and consumed by grief and sorrow. However, during this dark period, she came to me in a dream, urging me to tend to my beloved greenery.
Radiating life and beauty in abundance are my over 1,000 thriving plants on my terrace and balcony gardens. Encouraging myself in the joy of planting more and more plants healed me after my mother's words reminded me of our shared love for greenery. Gardening is now my passion again.
Gardening Tips From Patlu Ka Garden
Caring for my plants is an integral part of my daily routine which is driven by my passion for green wonders. I am an early riserand I start my day at 5 o'clock with a peaceful walk on my terrace, feeling the fresh air and enjoying the breathtaking view.
I give special attention to watering my plants, as I believe it is the most important factor of their well-being. Around 1500 plants are in my terrace and balcony garden, therefore it is essential to ensure that all of my plants get the right amount of water regularly. I also take care to avoid overwatering.
Misting as a crucial part of houseplant care. By misting, I provide them with a refreshing boost that helps in nutrient absorption and maintains their overall health.
After dedicating myself to the well-being of my green companions, I take time to unite with the natural beauty. Engaging in yoga within my garden not only keeps me physically active but it also allows myself to find inner peace & tranquility. The garden serves as my sanctuary. It is a place for myself to escape daily stressors so that I can embrace a calmer state of mind.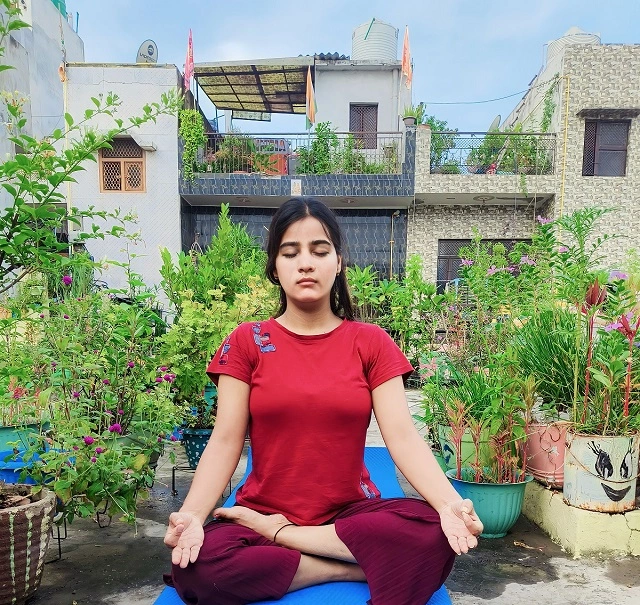 For me, caring for plants is more than a hobby. Growing plants is a way of life. My connection to nature encourages to care for and protect the plants. I wholeheartedly encourage everyone to embrace gardening, planting more plants, thus contributing to a healthier, sustainable world for future generations. By protecting nature and planting trees, we take impactful steps towards a greener and more beautiful future.





Rachana Upadhyay's Favorite Plants
My favorite plants comprises a wide variety which also includes wild plants. However, if I were to pick a single favorite, it would be the Areca Palm. It is an evergreen plant with easy maintenance and also acts as an air purifier, thus it enhance the air quality of any space with its beautiful leaves.
Another beloved plant of mine is the Aglaonema. It is commonly known as the lipstick plant because of its striking and alluring leaves. Aglaonema thrives in indoor spaces with indirect light, making it a delightful addition to any interior.
The Snake Plant holds a special place in my heart because it is a low-maintenance plant. Just like Areca plam, snake plants also have air purifying qualities. This beautiful houseplant can even be grown in water.
If you are looking for houseplants that can grow well in low light conditions, then the ZZ Plant is my go-to choice, as it thrives in such environments and requires minimal care.
Moving on to flower plants, the Bougainvillea is a top favorite of mine, coming in a splendid array of colors. Its vine shrub bonsai form allows for creative shaping, and its gorgeous flowers provide a sense of tranquility, alleviating stress. For best growth of this plant, place it under direct sunlight.
The Plumeria Champa, with its diverse range of varieties, captures my admiration, followed by the beautiful Trumpet Vine, which attracts a multitude of birds with its dark orange blossoms.
Gomphrena is yet another flower plant that I adore, appreciating its adorable and long-lasting flowers, while Pink Euphoria Milli amazes me with its 2-3 month bloom duration, requiring full sunlight, low water, and minimal fertilization.
As for winter flowers, the Cockscomb, also known as Murga in Hindi, holds a special place in my heart. Its feather-like appearance make it a captivating addition to any garden. The Chrysanthemum is known for alluring winter blooms because of which it is another winter favorite of mine, and I love growing them from stem cuttings.
Lastly, the Petunia which is a perfect winter flowering plant for hanging basket is in my list of cherished plants. Of course, there are many other plants that I love, but these plants are closest to my heart.
Message From Patlu Ka Garden
My thoughts on gardening are filled with joy and inspiration. If you wish to create a garden, remember that the most crucial aspect is your love for plants. Additionally, three essential requirements for a thriving garden are sunlight, water, and fertilizer. However, it's essential not to overuse fertilizer. By providing your plants with proper water, ample sunlight, and tender care, they will flourish beautifully. It's crucial to nurture and care for your plants.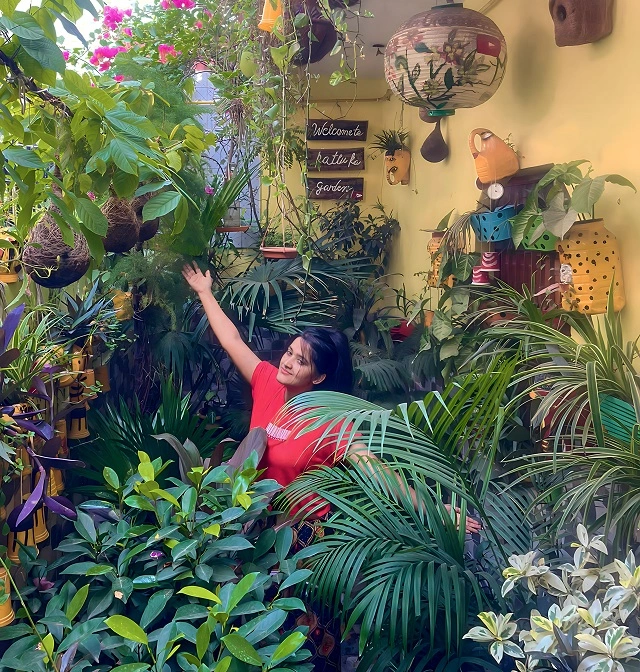 Ever since I was a child, I've been making compost, and I never throw away kitchen waste or plastic containers. Instead, I utilize them in my balcony garden. If you're reading this article, I invite you to explore my channel, where I share my creative gardening tips and techniques for ensuring healthy plants. Most of the time, I prefer using gobar khad and vermicompost.
For those who may not have the means to buy plants, taking cuttings from neighbors or parks and planting them in the soil can be a rewarding option. Money should not hinder your passion for gardening; there are always creative solutions.
As a nature lover and plant enthusiast, I strongly recommend engaging in gardening. A cherished thought that guides me in gardening is, "Focus on what you can control; don't worry about things beyond your reach." Just as with expensive plants, there's no need to fret about things we cannot influence.
Lastly, I urge everyone to contribute a little to the earth by creating a green corner, regardless of the size of their space. This small green oasis will provide a sense of living in harmony with nature and offer a stress-free heaven.
Happy gardening from "Patlu ka garden"!
---