This ultimate guide on how to grow tuberose will help you to grow tuberose in your garden. Get to know tuberose plant care as well from this article.




Introduction
Tuberose or Rajanigandha is a herbaceous, perennial, ornamental plant which is widely popular for its divine fragrance. The effect of fragrance of tuberose is such that you can feel it even few feet away from the plant. Moreover it will hug your soul with its beautiful white coloured flowers.
Having tuberose in the garden gives the feel of heaven on the earth and hence it has gained its popularity.






How To Grow Tuberose/ Rajanigandha?
Growing Season
Tuberose is a tropical plant, hence it requires warm climate to grow and bloom. However you can grow them in plant hardiness zones 8 to 10. In cooler climate you need to protect bulbs for the next season. Spring is the best season to propagate tuberose.




Potting Mix
Tuberose loves well drained, loamy to sandy loam fertile soil with pH around 6.5 to 7.5. If you do not have ideal soil then you can prepare potting mix with 40% garden soil + 20% river sand + 40% any bulky organic manure.
I prefer adding vermicompost or dry cow dung manure with 2 tablespoon bone-meal for this purpose.





Selection Of Pot
Tuberose can perform well in 8 to 12 inches sized earthen to cemented pots. I do not prefer using plastic pots for tuberose. But you can also use them in case earthen or cemented pots are not available. Although make sure to have at least 2 to 4 drainage holes at the bottom.
Drainage holes helps in removing excess water from the pot.




Propagation
For propagating tuberose buy disease free and healthy bulbs from the nearest plant nursery. Pour potting mix in the selected pot and leave 2 to 4 inches space at the top.
Sow the bulbs and keep pointed tips upwards. You can sow 2 bulbs in one 8 inches sized pot. After sowing cover the bulb with an inch layer of potting mix. Apply water after sowing and maintain moisture content in the potting mix.
After 15 to 25 days you will notice the growth of the plant. Although from this day it will take around two to three months to produce flowers. That's why you need to care well to keep your plant in good condition.






Tuberose Plant Care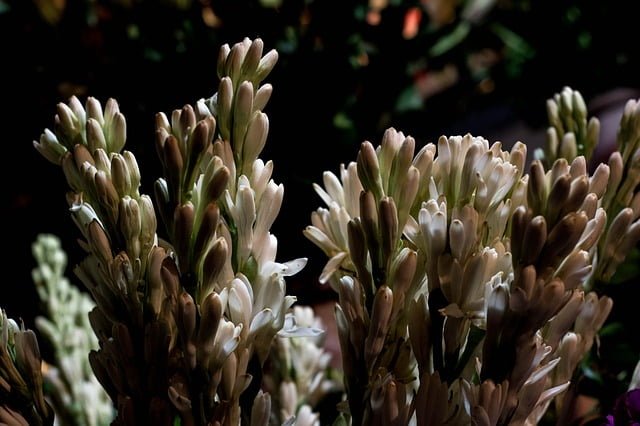 Sunlight
Tuberose plant loves sunlight. I prefer placing the plant in a spot where it can receive 6 to 8 hours of direct sunlight daily. However during very hot summer days you can move the pot under partial shade if plant shows any sign of withering.





Watering
Tuberose love moist but well drained soil. I only prefer watering when the top soil becomes dry. Apply water twice during hot summer days. However avoid waterlogging in the pot as it can cause damage to the plant.




Fertilizers
Tuberose is not a heavy feeder but feeding monthly will help you to get heavy flowering. Add one to two handful of vermicompost or cow dung manure once after every 30 days. You can also add banana peel or onion peel fertilizer to enhance blooming.






Author's Note
I guess you are now clear on growing tuberose in your garden. If you have any ideas, suggestions, or queries then comment below. You can also connect with Agriculture Review on Facebook, Instagram, and Koo.