This ultimate guide on orchid farming will help you in cultivating orchids in your farm. Learn about classification, climate, propagation method, fertilizers, irrigation, etc. required to cultivate orchids.
Cultivating orchids is a profitable business. From an acre of orchid farm you can earn around 1.25 Crore Indian Rupees, i.e., around 166375 US Dollars. But growing orchid is not an easy task. You need to become an expert, and in this article I am providing every detail that will make you a successful orchid farmer.
So keep reading till the end!





परिचय
Orchids are one of the most beautiful of all flowers from Orchidaceae family. They are perennial, terrestrial, epiphytic, saprophytic, and intermediate herbs with rhizomes or pseudobulbs, or tuberous roots.
There are about 700-800 genera of orchids in the world. According to an estimate about 1300 species are found in India.
Between 20,000 और 30,000 species and over 70,000 hybrids of orchids are present in the world. Industries mainly use orchids to produce herbal medicines, vanilla, cosmetics products such as perfume, anti-ageing and skin creams.
Moreover gardeners also love to grow orchids in their garden. Therefore if you are practicing orchid farming then you can also sell live plant in the market.





Origin Of Orchids
---
Orchids are wide in origin. Their origin is not limited to a particular geographical region. Orchids originated in tropical as well as temperate regions. Main centres of origin of orchids are Indo-Malayan, Brazil, Mexico, New Guinea, and Australia.





क्षेत्र और उत्पादन
---
थाईलैंड is the largest producer of orchids as well as the largest exporter in the world. Orchid growers of Thailand on an average produced around 2,403 Kilograms of orchids in an acre in 2012. Other major orchid producing countries are Netherlands, Belgium, and Taiwan.






आर्किड खेती गाइड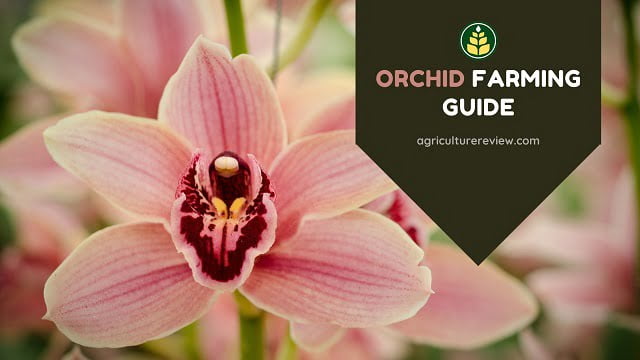 Unlike cultivating other ornamental crop such as rose, cultivating orchids requires precise knowledge and skills. For large scale cultivation, preparation of protected environment is necessary.
But before that understanding classification of orchids will help you to know various conditions in which you can cultivate this ornamental plant.






Classification Of Orchids
---
We can classify orchids according to pattern and growth habitat. According to pattern, orchids can be Monopodial या Sympodial. In monopodial orchid, stem grows from a single bud and the plant has only one stem.
In sympodial orchid, it doesn't grow from a single vertical stem but it grows from stem i.e. more or less horizontal. Sympodial orchids grow new pseudobulbs from the base of the previous pseudobulbs and develop multiple growth on a single horizontal stem.
These pseudobulbs can store water therefore it can survive for longer duration without application of water on regular basis.





On The Basis Of Growth Habitat
Epiphytes Or Tropical Orchids: This type of orchids generally grows in trees, clinging to the branches with their roots. Epiphytic orchids need bright sunlight to grow. But too much of heat can harm the plant. However few varieties such as Dendrobium और Cattleyes, और Oncidiums require shade.

Terrestrial Or Temperate Orchids: They are generally sympodial orchids. Terrestrial orchids grow on the soil and derives nutrition from the ground while epiphytic orchids derives nutrition from the humus.
Orchid Houses
---
For raising orchid crop on a large scale you need to maintain protected environment. Therefore installing shade house with net is necessary. To ensure proper ventilation make two tiers of roof, distance between each roof should be 20 to 30 centimetres.
You can use concrete या steel to create piles of 3.5 metres height और 3.5×3.5 inches thickness for the structure of the shade house. Use small wires along the edge of the net to tie the steel pipes. Also cover sides of the orchid shade house with net.
Note: The net shade should be porous enough to allow at least 35 to 40% of sunlight to pass through.
Benches For Orchids
---
After preparing orchid shade house, you need to prepare benches inside the shade house to place the orchids. Create concrete piles of 1.5 ×1.5 inches thickness और 60 centimetres high from the ground. The stage will be 1.20 metres thick.
So place 1.20 metres long concrete beam or steel pipe or water pipe between two piles of concrete. Distance between two piles will be 80 centimetres.
Note: Few orchids like Vanda, Archanis, Aranda, Rananthera, etc. doesn't need protected environment to grow. You can cultivate them under direct sunlight.



इन्हें पढ़ना आपको भी अच्छा लगेगा:
और पढ़ें: How To Get Farm Loan?
और पढ़ें: Guide To Grow Grass
जलवायु और तापमान
---
For cultivating tropical orchids, 70 to 80% humidity, and temperature range of 18 to 28 degrees Celsius is ideal.
प्रसार के तरीके
---
You can easily propagate orchids by seeds, division, back bulbs, or tissue culture. Use perforated earthen pots, or wooden baskets, or wire baskets, and stake the seedlings with bamboo sticks for giving proper shape.
You can plant around 45,000 orchids in an acre of orchid farm. Start initially by purchasing orchid seedlings for the farm. Later on you can propagate them easily by division or back bulbs. Plant orchids anytime in the shade house.






Growing Media
---
Orchids doesn't grow on soil. So you need to prepare growing media for cultivating orchids. You can prepare growing media by using coconut husk, charcoal, and broken pieces of bricks और tiles. Growing media should be well drained with good moisture holding capacity.
Do not use large size containers for growing orchids. Small container of 25 centimetres size is good for orchid.
For terrestrial orchids you can prepare growing media by using garden soil, river sand, Farm Yard Manure, and charcoal pieces. Mix leaf mould, FYM, and sand in the ratio 1:1:1. Add charcoal or fern fibre or coconut husk in this mixture to improve aeration.
You can also use these recommended potting mix for cultivating orchids:
Cymbidium: 30% Cocochips + 10% cocopeat + 10% brick pieces + 50% rice husk/ leaf moulds/ slow release fertilizer.
Dendrobium: Coco peat + brick pieces + tree bark (1: 1: 1).
Vanda: Cocochips + brick pieces + leaf fern (1:1:1).
Oncidium: Cocochips + brick pieces + leaf moulds (1:1:1).
Phalaenopsis: 25%Cocochips + 25%brickpieces + 25%leafmoulds + 25%green moss.
Cattleya: Cocochips + brick piece + leaf mould/leaf fern (1:1:1).
खाद
---
Like other crop, orchids also need fertilizers to grow. You can use एनपीके in the ratio 20:20:20 या 10:30:20 with trace elements along with 20 to 25% coconut water. This formulation is generally available in the market but you can also prepare by yourself.
You can start applying fertilizer 30 days after planting at weekly intervals. Keep application rate of 0.2%. Ohio W.P. is most commonly used fertilizer solution for orchids.





सिंचाई
---
You can irrigate orchid farm by misting or by using overhead sprinkler to maintain adequate moisture in the shade house. Irrigate orchid farm only during morning time. Irrigation frequency differs according to the climate and variety.





Pests, Diseases & Management
---
| रोग | प्रबंधन |
| --- | --- |
| लीफ स्पॉट | Spray Bavistin 1% |
| Bacterial Soft Rot | Spray Streptocyclin 0.01% |
| Blight Of Flowers | Spray Bavistin 1% |
| Pythium Black Rot | Use Copper oxychloride 0.3% |




Pests & Management
| कीट | प्रबंधन |
| --- | --- |
| Mites | Use wettable Sulphur |
| थ्रिप्स | Spray Melathion 2 ml per litre |
| Scales | Use Metacid 2 ml per litre |
| एफिड्स | Spray Melathion 2 ml per litre |
| मीली बग | Use Dimecron 0.5 ml per litre |
| नेमाटोड्स | Use Furadan |
फसल की कटाई
---
Harvest orchid crop only during evenings when the flower are fully open. Delay in harvesting will result in wilting. Orchid flower matures completely within 3 to 4 days after opening of flower. Immediately after harvesting put the cut flower into tube of water.





उपज
---
On an average you will get 8 to 10 spikes per plant per year. In an acre you can get about 2,403 Kilograms of Orchids.





Post Harvest Management Of Orchids
---
After harvesting of orchids, grading, storage, and packing plays a vital role. Grading of orchids is done on the basis of:
Length of the flower spike,
Flower Size,
Flower Number,
Arrangement of flower on the spike.
Storage Of Orchids: You can store orchids for 10 to 14 days at 5 to 8o Celsius. Use plastic film for storage.
Packaging: Use standard florist box for packaging. Pack 100 flowers in a box, place cotton under at the cut end of the flower stem to prolong the shelf life. Packaging that is airtight, waterproof, strong enough to withstand handling is considered ideal.
लेखक का नोट
---
I guess you have completely understood the orchid cultivation process. If you have any ideas, queries, or suggestions then comment below. You can also get in touch with Agriculture Review on Facebook, Instagram, and Koo.