This ultimate guide on beejamrit preparation and uses will help you to understand the complete process of beejamrit or beejamarutam preparation.
Beejamrit is an amazing organic solution that can be used for seed treatment. The usefulness of this organic solution have been already verified by National Centre Of Organic Farming, Ghaziabad (India). Whether you are a farmer or a gardener, you can easily prepare this solution by following the given steps.







Benefits of Beejamrit
Many farmers requested to share about this amazing indigenous, organic seed germination enhancer. However, it cost very less as compared to the inorganic chemicals. It also take very less time for the preparation.
According to the research by NCOF, use of this organic solution can protect seeds from seed borne diseases. It also helps to improves the germination viability of the seeds. This amazing organic solution speed up the spread of roots and protects it from pest or any fungal attack.
So, let's now understand the complete procedure for preparation of this organic solution.



You will also love reading them,
READ MORE: ZBNF(Zero Budget Natural Farming)
READ MORE: How To Grow Grass



Ingredients For Beejamrit
For treating 100 Kilograms of seed you will need the following ingredient.
Ingredients
Quantity
Cow Dung
5 Kilograms
Cow Urine
5 Litres
Limestone or Lime
50 gram
Water
20 Litres
Seed
100 Kilograms
Soil
(prefer soil around Banyan tree roots)
50 grams
Source: NCOF, Ghaziabad

Cow dung adds micronutrients, macronutrients, and beneficial microbes. Cow urine have anti-bacterial and anti-fungal properties that helps to save the seeds. We add limestone or lime to balance out the acidic nature of cow urine. It helps to maintain the pH level of the solution.
That's why adding limestone is very necessary. Once you arrange these ingredients, then you will need to follow the following procedure.


You will also love reading these,
READ MORE: HOW TO PREPARE AND USE WASTE DECOMPOSER
READ MORE: 3G CUTTING: INCREASE YIELD UPTO 14 TIMES!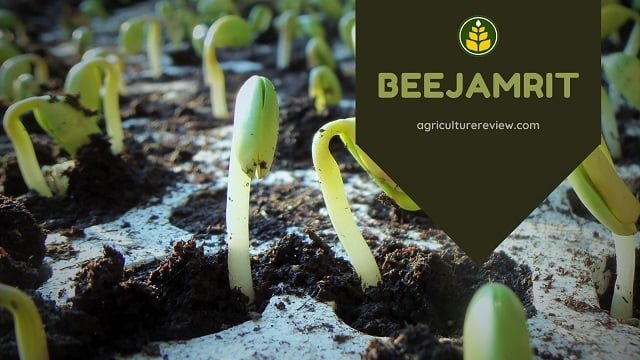 Procedure
The procedure is quite simple. Take a plastic drum that can hold 20 litres of water. Add water in the drum and add cow dung, urine, limestone or lime, and soil. Mix it well with the help of a wooden stick. Keep this solution under shade for 24 hours.
After 24 hours, spread seeds on a plastic sheet or cement floor. Sprinkle the prepared solution on the seeds. Make sure the the seeds get properly covered in the solution. Air dry the seeds under shade.
After air drying of seeds you can sow them in early mornings or evenings. You can also use this solution for treating the roots of vegetable saplings.
Before transplanting dip the roots in the solution for few seconds. Take out the seedlings and transplant it in your field or garden. You can use this solution for farming as well as gardening purpose.







Author's Note
I hope now you can now easily prepare beejamrit, in your home garden or large farm lands. This is definitely going to enhance your organic farming. If you still face any difficulty or have query the comment below.
You can also connect with Agriculture Review on Facebook and Instagram.