This ultimate guide on how to grow and plant strawberry plant in pot will help in growing strawberry in your garden. Learn step by step guide to get maximum fruiting from your strawberry plants.




Where & When Strawberry Grow?
Strawberry grows in cool climatic conditions, generally in temperate regions and hills. In plains you can grow them during winter season. During summer you will have to save the plant from scorching heat or your plants will die.
The best time for growing strawberries id during September to October.





Cost Of Strawberry Plants
You have got two options, either you can purchase strawberry seeds directly from the market or you can purchase small strawberry plants. Both are cheap and small plants usually costs between rupees 10 to 40 depending upon size.
Large well developed mature plants are also available but they cost in the range of rupees 80 to 150. I prefer to either grow it from runners or purchase small strawberry plants directly from the nearest plant nursery.





How To Grow Strawberry From Seeds?
If you are growing from seeds then start preparing potting mix by mixing 60% cocopeat and 40% organic compost. You can use a seedling tray or any container fit for supporting seed germination.
Sow seeds and keep the apparatus under partial shade sunlight. Keep checking moisture and within 15 to 20 days seedlings will start appearing.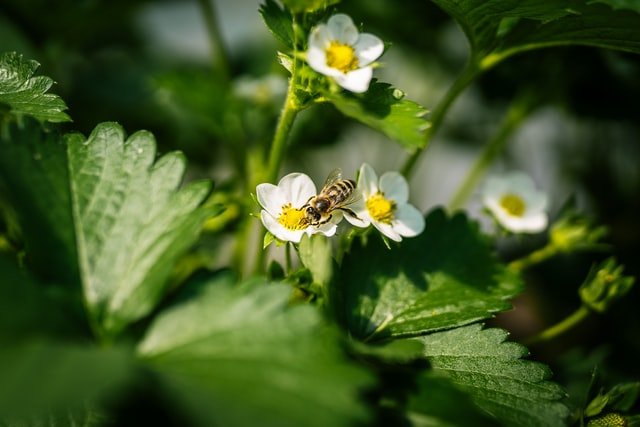 When they reach 5 to 6 leaf stage then they become ready for transplantation. Transplant them in bigger pots having proper drainage holes to remove excess water from the pot.

you will also love reading them,
READ MORE: How To Grow Grass?
READ MORE: How To Grow & Care For Blueberry?


How To Plant Strawberry?
Using a potting mix of 50 % garden soil, 40% organic compost, and 10% sand, transplant them in the new pot. Keep at least 5 to 6-inch distance between each plant if you are taking a bigger pot.
In small pots plant only one to two strawberry plants. After transplanting apply water in the pot. While watering do not wet the leaves or fruits of the strawberry plant as it may cause fruit rot.





Strawberry Plant Care Guide
| | |
| --- | --- |
| Climate | Temperate Climate |
| Soil | Sandy loam soil rich in organic matter |
| Sunlight | 8 to 12 hours of sunlight daily |
| Watering | Keep the soil moist |
| Fertilizers | NPK (12:12:12) once monthly, or Organic Manure twice monthly |
When To Harvest Strawberry?
Strawberry plants will take at least three to four months to start fruiting. Till then take care of fertilizers and water needs of the plants.
Green strawberry fruits will take two weeks to mature fruits after that keep harvesting as per your need and enjoy tasty strawberry fruits in your garden.