This ultimate guide on farm loan will help you in understanding complete process of getting loan from banks for agriculture purpose. Farming is an enterprise of planning, strategies, investments, execution, and risk.
Hence, to start or run a farm, the farmer needs capital for executing various type of work in the farm. A Farmer may require capital for land, seeds, fertilizers, machinery, etc. For this purpose, better planning and farm loan proves out to boon for the farmer.
Loan as you can understand in simple words is money that you can get from either individual or organization for a certain period of time after which you have to repay the amount taken along with interest rates set by the organization.
That's why better planning is required to get desired amount of profits from the farm activities. So that even after repaying the loan you save certain amount of profit from your farm activities.
Let's understand step by step on how to get a farm loan in various countries.






How To Get A Farm Loan In India?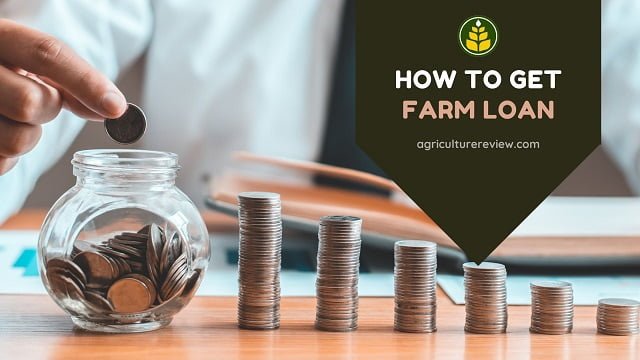 If you are living in India and want to get loan from the banks for farming or equipment then you can approach these banking and government organizations.
State Bank Of India
Punjab National Bank
Central Bank Of India
Karur Vysya Bank
Induslnd Bank
Union Bank
Axis Bank
IDBI Bank
ICICI Bank
NABARD
The interest rates varies among these banks, and not all give all types of agriculture or crop loans. Hence first you will need to understand what type of agriculture loans are there?
Then you will have to look for interest rates and finally whether you meet the eligibility criteria or not?
If you are eligible then you will have to keep these documents with you before approaching banks for loan.



PNB TATKAL KRISHI RIN: LINK

Documents Required
---
2 to 4 Passport sized photographs,
Identity Proof (Aadhar Card, Voter ID, Ration Card, PAN Card)
Address Proof (Electricity Bill/ Water Bill)
Income Statement (Bank Statement, ITR)
Application Form (Filled)
Kisan Credit Card
Some banks may require few more documents but if you have all of these mentioned documents then you will rarely face any difficulty.






Eligibility Criteria
---
You have to meet all these eligibility criteria to get farm loans from banks in India. Hence have a look on all the points mentioned below:
People with minimum 18 years of age and maximum 65 years of age can get loan for farming.
You should be an Indian Citizen.
There should not be any criminal records against you.
If you are a loan defaulter in the past then loan will not be granted.
You should have access to farming land.
After fulfilling the eligibility criteria you have to decide what type of agriculture loan you are seeking from the bank.






Types Of Agriculture/Farm Loan
Based on Loan tenure, end use, and purpose loan for agriculture can be of following types in India:

Agriculture Term Loan
You can call it a long term loan that banks offer for period up-to 48 months. If you are planning purchasing machinery such as tractors, water pumps, solar system, etc. then you can apply for this type of loan.
You can repay loan along with added interest rates in monthly or bi-annual or yearly instalments as per your convenience. Banks will allow you to repay the loan amount along with interest rates in around 3 to 4 years.



Crop Loan Or Retail Agri-Loan
Its a short term loan that you can get for fulfilling your short term expenses such as upgrading or maintenance of machinery, farm activities, purchasing seeds, fertilizers, etc. If you try to get this type of loan then you will get "Kisan Credit Card" from the bank.
This Kisan Credit Card is valid for 5 years and you have to renew it annually. Your credit limit will depend on the bank's rule and your credit score.



Farm Mechanization Loan
The word mechanization says all about this type of loan. For purchasing, replacement or repair of machine, equipments or tools such as tractors, harrower, harvester, etc. you can get this loan. State Bank Of India gives tractor loans, loans for drip irrigation equipments, and combine harvester loans.
However, you can also get farm mechanization loans from other banks but they will give you general purpose loans.



Solar Pump Set Loan
If you want to set up your own solar pump set to save long term expenditure on irrigation water requirements then you can avail solar pump set loan. For repayment of this kind of loan you will get time period of up to 10 years.



Agricultural Gold Loan
If you have authority of gold ornaments then you can get loans for agriculture purposes at low interest rates by pledging your gold ornaments as security. From this loan you can purchase machinery, or fulfil your crop cultivation needs.



Horticultural Loan
If you are planning to cultivate vegetables, or fruits in your farm then you will require capital for setting up of orchards for fruit trees, seeds, propagation materials, nursery set-up, fence setting etc. Hence to fulfil these requirements you can avail horticultural loan from the banks.



Forestry Loan
If you are willing to grow trees in your farm or practice agroforestry then you can avail forestry loan from banks. From this type of loan you can purchase vegetative propagules of trees, set up irrigation channels, etc.



Loan For Allied Agricultural Activities
For fulfilling your day to day farming needs you can try to avail this type of loan. Suppose you want to hire labours for farm activities then you can pay them initially for their work by taking this type of loan from the banks.



You will also love reading them,
READ MORE: Guide On How To Grow Grass
READ MORE: Orchid Farming Guide


Farm Loan Providers In India
Bank/Lender Name
Types Of Loan
State Bank Of India
Crop Loan
Dairy Loan
Poultry Loan
Fisheries Loan
Kisan Credit Card
Drip Irrigation Loan
Land Purchase Scheme
SBI Krishak Uthan Yojana
Multipurpose Gold Loan
Produce Marketing Loan
Combine Harvestor Loan
Scheme for Debt Swapping of Borrower
Setting up of Agri Clinic and Agri Business Centres
Central Bank Of India
Kisan Credit Card
Cent Kisan Tatkal Scheme
Cent Vermicompost Scheme
Cent Solar Water Heater Scheme
Axis Bank
Kisan Mitra
Kisan Power
AGPRO Power
Kisan Matsya
Union Bank Of India
Crop Loan
Kisan Credit Card
Farm Mechanization Loan
Karur Vysya Bank
Green Trac
Green Car
Dairy Loan
Kisan Tatkal
Poultry Loan
Green Harvester
Pisciculture Loan
Loans for SHG-JLG
Warehouse Receipt Loan
Loans for Horticulture Projects
Green Card / Green Card Plus (Kisan Card)
ICICI Bank
Krishi Loan
Long Term Agricultural Loan
NABARD
National Livestock Mission
Agri-clinic and Agribusiness Centres Scheme
Capital Investment Subsidy Scheme for Commercial Production Units for organic/ biological Inputs
IndusInd Bank
Production Loan
Investment Loan
Hi-Tech Agriculture
Interest Rates & Processing Fee
You will have to re-pay around 7 to 10% interest rates per annum on your loan amount to the lending banks. Moreover you will also need to pay minimal processing fee of around 0 to 4% of the loan amount.
Hence knowing about processing fees and interest rates will help you to select best options.
| Bank Name | Interest Rates |
| --- | --- |
| State Bank Of India | Around 7.25% per annum |
| Central Bank Of India | Around 13.25% per annum |
| Karur Vysya Bank | Around 8.35% per annum |
| IDBI Bank | Around 7% per annum |
| IndusInd Bank | Around 10% per annum |
| ICICI Bank | Around 8.25% per annum |
If you have read till here then you can decide option that is best for and accordingly visit the best lender to get your purpose fulfilled.






Loan EMI Calculator
Loan Repayment/EMI Calculator
Sorry
This video does not exist.
| Period | Payment | Interest | Balance |
| --- | --- | --- | --- |
Calculator Disclaimer
The repayment amount shown using this calculator is an estimate, based on information you have provided. It is provided for illustrative purposes only and actual repayment amounts may vary. To find out actual repayment amounts, contact us. This calculation does not constitute a quote, loan approval, agreement or advice by Agriculture Review. It does not take into account your personal or financial circumstances.