This ultimate guide on how to grow Aloe vera will help you to grow and care for Aloe vera houseplant. Get to know sunlight, watering, fertilizers, requirement of the plant. Also learn to propagate aloevera plant.


Introduction
Aloe vera is a wonderful air purifying as well as an indoor plant. It belongs to succulent plant species. Gardeners and farmers loves to cultivate Aloe vera mainly for its medicinal benefits.
However, Aloe vera houseplant also adds beauty and value to the indoor space. It can filter air toxins such as Benzene, Formaldehyde, Xylene, Toluene, Trichloroethylene, and Ammonia from the air.
Therefore having an indoor plant such as Aloe vera is like getting blessing of healthy life from the mother nature.



Aloe Vera Ke Fayde ( Benefits)
Aloe vera contains various powerful antioxidants compounds. Gel either directly taken from the plant sap or processed gel can be used as a natural facial cleanser in place of hazardous chemical cleanser that damages the skin gradually.
So it is better to use natural aloe gel. Aloe vera gel has the tendency to boost the blood flow inside the skin and it also kills harmful pathogens present on the skin. It helps to reduce blood sugar.
It acts as a good source of natural sanitizer although it's alcohol-free. So why not we start using and growing Aloe vera from today, its quite easy, and Aloe vera grows vigorously.
The application of gel on small burns or skin injuries prevents infection. Aloe vera plants act as air purifiers.
If you are living in a polluted city then what are you waiting for, just start growing Aloe vera and purify the air inside your home.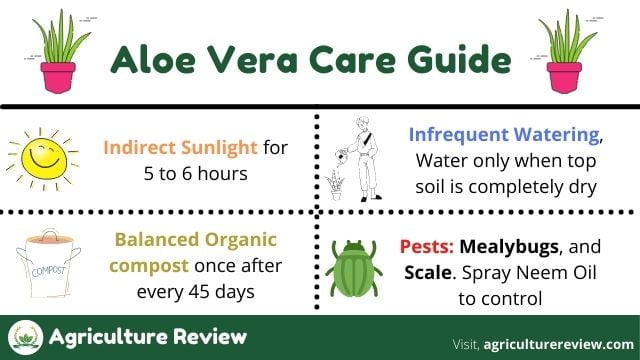 Aloe vera Care Guide
1. KEEP IN MIND THAT ALOE PLANTS ARE SUCCULENT TYPE.

2. SUCCULENT PLANT NEED MINIMUM WATER AND WELL DRAINAGE SYSTEM.

3. SUCCULENT PLANTS GROW BETTER IN DRY CONDITION. YOU SHOULD WATER THEM TWICE IN A WEEK. 50 ML IS ENOUGH PER PLANTS.

4. BEFORE POTTING A PLANT YOU CAN USE CACTUS POTTING SOIL MIX/ 70%SOIL AND 30% SAND BASE MIXING.

5. I HAVE FOUND THAT IT GROWS BETTER IN MIXING OF 70% SOIL WITH 30% COCOPEAT.

6. AFTER POTTING YOUR PLANT IT SHOULD BE KEPT IN SOUTHEAST FACING WINDOW OR BALCONY.

7.AFTER ONE WEEK PLANTS GROW NEW ROOTS INTO NEW POTTING MIX SOIL.

8. AFTER ONE WEEK FOR VIGOROUS GROWTH OF PLANTS YOU CAN USE ½ TEASPOON BONE MEAL  ONCE IN A MONTH. 

9. USE 2gm OF  PHOSPHORUS IN INTERVAL OF EVERY 6 MONTH.

10. WATERING TWICE IN A WEEK.

11. SOME TIME BLACK SPOT APPEARS ON LEAVES. IN SUCH CASE USE 2GM CALCIUM CARBONATE (LIME).

12. USE NPK(19:19:19) FERTILIZER 2gm/lit  AS A FOLIAR SPRAY. THIS SPRAY MAINTAIN GOOD TEXTURE OF PLANTS.

13. CHANGE POT AS PER GROWTH OF PLANTS.